TAARIFA YA JESHI LA POLISI MKOA WA MBEYA KWA VYOMBO VYA HABARI
"PRESS RELEASE" TAREHE 02.02.2016.
· WAZEE WAWILI WAMEUAWA KIKATILI WILAYANI KYELA MKOANI MBEYA KUTOKANA NA IMANI ZA KISHIRIKINA.
· MWANAFUNZI WA SHULE YA MSINGI MAPAMBANO JIJINI MBEYA AFARIKI DUNIA PAPO HAPO BAADA YA KUGONGWA NA GARI.
· MWENDESHA PIKIPIKI AFARIKI DUNIA KATIKA AJALI ILIYOHUSISHA GARI KUGONGANA NA PIKIPIKI.
KATIKA TUKIO LA KWANZA:
WAZEE WAWILI WAKAZI WA KITONGOJI CHA BULINDA WILAYA YA KYELA MKOANI MBEYA WALIOFAHAMIKA KWA MAJINA YA 1. GENELI KAPWELA [65] NA 2. RAHABU BUNGULU [70] WALIUAWA KWA KUKATWA NA VITU VYENYE NCHA KALI SEHEMU MBALIMBALI ZA MIILI YAO NA KISHA KUCHOMWA MOTO NA WANANCHI WALIOAMUA KUJICHUKULIA SHERIA MKONONI.
MIILI YA MAREHEMU ILIKUTWA KATIKA NYUMBA WALIMOKUWA WAKIISHI MNAMO TAREHE 01.01.2016 MAJIRA YA SAA 08:00 ASUBUHI HUKO KITONGOJI CHA BULINDA, KIJIJI/KATA YA MATEMA, TARAFA YA NTEMBELA WILAYA YA KYELA MKOA WA MBEYA.
KATIKA TUKIO HILO, GENELI KAPWELA ALIUAWA KWA KUTENGANISHWA KICHWA NA KIWILIWILI NA KUKATWA MKONO WA KUSHOTO NA VIUNGO HIVYO HADI SASA HAVIJULIKANI VILIPO NA RAHABU BUNGULU ALIUAWA KWA KUCHOMA NA KITU CHENYE NCHA KALI NA WANANCHI WALIOAMUA KUJICHUKULIA SHERIA MKONONI.
INADAIWA KUWA, WANANCHI HAO WALIVAMIA NYUMBA WALIYOKUWA WAKIISHI MAREHEMU KISHA KUWAKATA NA VITU VYENYE NCHA KALI NA BAADA YA KUTEKELEZA MAUAJI HAYO, WATU HAO WALIANGUSHA NYUMBA WALIYOKUWA WAKIISHA AMBAYO ILIKUWA IMEJENGWA KWA MIANZI NA KISHA KUICHOMA MOTO.
CHANZO CHA TUKIO HILO NI IMANI ZA KISHIRIKINA KWANI MAREHEMU WALIKUWA WANATUHUMIWA KULETA UGONJWA WA KIPINDUPINDU KIJIJI HAPO KWA NJIA ZA KISHIRIKINA. WATU WAWILI WAMEKAMATWA KWA MAHOJIANO KUHUSIANA NA TUKIO HILO AMBAO NI 1. ALIKO MWAMTOBE [47] MKAZI WA MATEMA NA 2. ALISOLOMON MWAMTOBE [49] MKAZI WA KITONGOJI CHA BULINDA.
KAMANDA WA POLISI MKOA WA MBEYA KAMISHNA MSAIDIZI MWANDAMIZI WA POLISI AHMED Z. MSANGI ANATOA WITO KWA JAMII KUACHA IMANI POTOFU ZA KISHIRIKINA KWANI ZINA MADHARA MAKUBWA KATIKA JAMII.

KATIKA TUKIO LA PILI:
MWANAFUNZI WA SHULE YA MSINGI MAPAMBANO ILIYOPO JIJINI MBEYA ALIYEFAHAMIKA KWA JINA LA FELISTA MWANSASU [12] AMEFARIKI DUNIA PAPO HAPO BAADA YA KUGONGWA NA GARI LENYE NAMBA ZA USAJILI T.949 CVS AINA YA MITSUBISHI FUSO LILILOKUWA LIKIENDESHWA NA NSAJIGWA ALISALA [39] MKAZI WA MBEYA.
TUKIO HILO LIMETOKEA MNAMO TAREHE 01.01.2016 MAJIRA YA SAA 07:50 ASUBUHI HUKO MAENEO YA MAFIATI, KATA YA MUUNGNANO, TARAFA YA IYUNGA, JIJI NA MKOA WA MBEYA KATIKA BARABARA YA MBEYA/TUNDUMA.
CHANZO CHA AJALI KINACHUNGUZWA. MWILI WA MAREHEMU UMEHIFADHIWA HOSPITALI YA RUFAA MBEYA. DEREVA AMEKAMATWA, UPELELEZI UNAENDELEA.
KATIKA TUKIO LA TATU:
MWENDESHA PIKIPIKI ALIYEFAHAMIKA KWA JINA LA ASIFIWE MWANTOBE [25] MKAZI WA TUNDUMA MKOANI MBEYA AMEFARIKI DUNIA BAADA YA PIKIPIKI ALIYOKUWA AKIENDESHA KUGONGANA NA GARI LENYE NAMBA ZA USAJILI T. 975 CPS AINA YA TATA BUS LILILOKUWA LIKIENDESHWA NA EMANNUEL ADAM [36] MKAZI WA MBEYA.
TUKIO HILO LIMETOKEA MNAMO TAREHE 01.01.2016 MAJIRA YA SAA 18:00 JIONI HUKO MAPOROMOKO KATIKA BARABARA YA TUNDUMA/MBEYA, WILAYA MOMBA, MKOA WA MBEYA.
INADAIWA KUWA, MARA BAADA YA AJALI HIYO PIKIPIKI ALIYOKUWA AKIENDESHA MAREHEMU ILITOROSHWA NA WATU WASIOJULIKANA. MWILI WA MAREHEMU UMEHIFADHIWA KITUO CHA AFYA TUNDUMA. CHANZO CHA AJALI KINACHUNGUZWA. DEREVA WA BASI AMEKAMATWA NA UPELELEZI UNAENDELEA.
KAMANDA WA POLISI MKOA WA MBEYA KAMISHNA MSAIDIZI MWANDAMIZI WA POLISI AHMED Z. MSANGI ANATOA WITO KWA MADEREVA KUWA MAKINI WANAPOTUMIA VYOMBO VYA MOTO IKIWA NI PAMOJA NA KUFUATA NA KUHESHIMU SHERIA NA ALAMA ZA USALAMA BARABARANI ILI KUEPUKA AJALI ZINAZOEPUKIKA. AIDHA ANATOA WITO KWA WATUMIAJI WENGINE WA BARABARA KUWA MAKINI KATIKA MATUMIZI YA BARABARA HASA KWA KUFUATA SHERIA ZA BARABARANI.
Imesainiwa na:
[AHMED Z. MSANGI – SACP]
KAMANDA WA POLISI MKOA WA MBEYA.
CODESRIA National Working Groups
Call for 2016 Proposals for laureates and evaluators
Deadline Evaluators: 29 February 2016 Deadline laureates: 31 March 2016
One of the most important vehicles that CODESRIA uses to mobilise national-level research capacities and channel them into organised reflections has been the National Working Groups (NWGs) Programme. Through this mechanism the Council encourages African researchers to autonomously organise and pursue research on priority themes of their choice. NWGs have been supported by the Council in over forty African countries and have resulted in some of the most interesting studies on politics, the economy and society in contemporary Africa. To better complement research institutions in Africa, the Council now requires the systematic anchorage of NWGs in university departments, faculties, and research centres as well as independent research networks and centres. All NWG proposals submitted to CODESRIA have, since 2007, been required to demonstrate this institutional anchorage and budget for an end-of-study dissemination workshop. Further, to promote the involvement of wider communities in knowledge production and consumption, the Council also now provides resources for the dissemination of the work produced by NWG to national audiences in the countries in which studies are undertaken. Applicants are requested to include a line for such dissemination in their budgets.
CODESRIA invites proposals for the constitution of NWGs under its 2016 grants competition. The Council particularly desires proposals that seek to weld structured empirical research into innovative theoretical reflections on important national issues. Winning proposals will be funded for a strict 15-month period during which work should be completed. On account of this strict timelines, past experience by researchers in their area of chosen work and ongoing work on projects proposed that indicate a high likelihood of completion within 15 months will be added advantages.
NWG sizes vary over time and space but most of the groups sponsored by CODESRIA in the past have had between four and six members. It is advantageous to ensure that a proposed NWG is multidisciplinary in composition, sensitive to gender issues both in its composition and research concerns, and accommodating of younger scholars who might simultaneously benefit from being mentored through their participation in the research project.
NWG applications
packages should contain the elements below. Packages lacking any of these will be discarded in the initial sorting process before applications are sent to the Council's independent review committee.
-
Cover letter
: This one-page document should introduce the proposed work of the group, list all group members including their institutional affiliation, email addresses and phone numbers and indicate the coordinator of the group.
-
CVs
: CVs of all group members detailing their full contact information and institutional affiliation
-
Completed identification form
: the attached identification form must be fully completed
Proposal
: NWG proposals can focus on any topic that explores the economy, politics, culture, environment and society in any African country and should:
-
Clearly state and contextualize the questions that will be addressed;
-
Explore relevant hypothesis and/or review relevant literature, including that produced by the; local research community;
-
Discuss the research method(s), which will be employed in the study; Spell out the theoretical and practical significance of the work;
-
Provide a clear work plan including dates for the inauguration and finalisation of the work that would be undertaken;
-
Specify strategies for anchoring the activities of the group within an African university, or an African research network or centre;
-
Provide a letter signed by the responsible of the Institution;
-
Indicate a strategy for the dissemination of the results of the work of the group;
-
Include an outline budget for the realisation of the research project.
-
The proposals should not exceed 10 pages long (font: Times New Roman; font size: 12; line spacing: double);
While grants to NWGs vary, recent grants have ranged between USD 10,000 and USD 20,000. Also, while no particular format is prescribed for the presentation of the budget of an NWG, it is recommended that budgets cater for the following:
A) methodology workshop to launch groups;
B) mid-term review workshop to assess the progress of the work of the NWG;
C) final/dissemination workshop where the results of the work of the group will be presented to a wider audience;
D) The cost associated with field or archival work undertaken by group members;
E) The honoraria of group members; and
F) Books that might be purchased by the group and that will be lodged in the library of a designated African university, established research network or centre.
All proposals for CODESRIA's 2016 NWG competition should be sent electronically to CODESRIA at
[email protected]
by 31 March, 2016 at the latest. All proposals received will undergo an independent review process and successful applicants will be informed by 30 April, 2016. Kindly use the subject line NWG 2016 in your email to ensure your application does not get lost. All proposals received will be submitted to an independent review process and the selected applicants will be informed no later than 31 May 2016.
National Working Groups
, CODESRIA,
Avenue Cheikh Anta Diop X Canal IV
B.P. 3304, CP 18524, Dakar, Senegal ,
Tel.

(221) 33 825 98 21/22/23, Fax : (221) 33 824 12 89,
CODESRIA invites highly qualified African and Diaspora researchers with significant experience in the conduct of research and teaching methodology to apply for the position of evaluator for the 2016 National Working Group grant competition. Evaluators perform the primary function of reading, commenting on and ranking NWG proposals.
CODESRIA offers a modest honorarium for the work of evaluators and often invites some evaluators, under separate contracts, to also serve as resource persons during workshops for NWG members. Applicants should send the following documents to CODESRIA
·
A one-page cover letter
·
A CV
with full contact details including email and phone numbers that highlights the applicant's experience in the area of comparative research and comparative research methodology
·
A completed version of the identification sheet attached to this call
The deadline for submission of applications is February 29, 2016. Notification of the result of the selection process will be done by March 31, 2016. All applications should be sent by email to National Working Groups, CODESRIA at
[email protected]
. When sending your email kindly use the subject line 'NWG 2016 evaluator' to ensure your application does not get lost.
National Working Groups
, CODESRIA,
Avenue Cheikh Anta Diop X Canal IV
B.P. 3304, CP 18524, Dakar, Senegal ,
Tel.

(221) 33 825 98 21/22/23, Fax : (221) 33 824 12 89,
Topic:
Gender, Diseases and Public Health Governance in Africa
Date: 4th -15th July, 2016
Call for applications: Session 2016
The Council for the Development of Social Science Research in Africa (CODESRIA) is pleased to announce the 2016 session of its annual Gender Institute. It invites researchers to submit their applications for participation in this Institute to be held from 4th to 15th of July, 2016 in Dakar, Senegal.
Launched in 1994 by CODESRIA, the Gender Institute is an interdisciplinary forum which brings every year together about fifteen researchers from various parts of the continent and the Diaspora, as well as some non-African scholars who are undertaking innovative research on topics related to the general theme of Gender.
Initially aimed at promoting widespread awareness of the concept of gender in the social science research community, the Institute has subsequently been organized around specific themes designed to strengthen the integration of gender analysis into social science research in Africa and encourage the emergence of a community of researchers versed in the field of gender studies.
The sessions are led by a scientific director who, with the support of the selected resource persons, ensures that the laureates are exposed to a wide range of research and policy issues. Each laureate is required to prepare a research paper to be presented during the session. The revised versions of such papers will undergo a peer review for publication by CODESRIA. The CODESRIA Documentation and Information Centre (CODICE) will provide participants with a comprehensive bibliography on the theme of the Institute. Access to a number of documentation centers in and around Dakar will also be also facilitated.
The CODESRIA Gender Institute will be held in French and in English through simultaneous translation.
2016 Session Theme: Gender, Diseases and Public Health Governance in Africa
The re-emergence of a more virulent strain of the Ebola Haemorrhagic Fever (EHF) in West Africa in 2014 has brought to light some key issues of public health governance in Africa. One such issue is the gendered nature of epidemic-prone infectious diseases in Africa. Current epidemiological statistics on Ebola indicate that though the initial cases were predominantly male, the disease is slowly becoming a female epidemic in the affected countries in Africa. This gendered pattern of female vulnerability to disease in its progression and as it progresses in the population, mirrors that of the HIV/AIDS pandemic which started globally as a male disease and metamorphosed in Africa to become a major female pandemic. In the high HIV prevalence countries of Southern Africa, HIV infection rates among 15-19 year old females are sometimes five times higher compared to males in the same age groups.
But while heterosexual transmission provides a plausible explanation for the gendered nature of some diseases, a review of other "tropical diseases" like malaria, schistosomiasis and even trachoma suggests that female vulnerability to diseases in Africa may extends to diseases that are not sexually transmitted.
For many years, researchers have reported that more African men than women presented at health centres for treatment of malaria, thus concluding that malaria prevalence was higher among men than women. However, work by Sims, 1994 suggests that infection rates among female and children are similar to those of men, but time and mobility constraints and other engagements discourage women from attending clinics. Familiarity with malaria symptoms especially in high endemic areas may lead women to engage in home treatment of malaria for themselves and the children. Thus, statistics showing high rates of malaria among males may actually reflect gender differences in health service use rather than differences in prevalence.
McGregor, 1984 argues that a major gender difference relating to malaria is to do with the severity of the consequences of the disease. Malaria among women during pregnancy can have very detrimental health consequences and may lead to the development of chronic anaemia which is a far more severe outcome than in men.
Michelson (1992) focussing on another common "tropical disease" schistosomiasis, found that in Nigeria, the prevalence of schistosomiasis peaked among females aged 5-15 and prevalence remains high compared to that of males because young females engage in gender roles that continuously exposure to water.
Vlassoff and Bonilla, 1994, question whether the excessive focus on women's reproductive services in Africa leads to loss of opportunities in the detection of other diseases. So the way public health facilities are organised, the whole maternal and child health focus creates some illusion that the only diseases that women suffer from are those related to reproduction.
Understanding gender and diseases has serious implications for governance of public health in Africa. Governance of public health in Africa relates to more than just the role of government. It includes a diverse number of players who influence health outcomes. Governance includes the role of family, patriarchy, culture and community in determining exposure to disease. Governance includes national government, international NGOs and global health experts who all influence disease outcomes of people in Africa. The relationship between gender, disease and governance of public health raises some key questions which this Institute will explore?
1.
Why are African females vulnerable to disease? What is it about femaleness or maleness that leads to differences in exposure to disease? Can public governance at any level work effectively without acknowledging that femaleness and maleness matters for disease exposure and disease prevention in Africa?
2.
What is the role of family, culture and patriarchy in the creation of gender differences in the use of health facilities? How does this impact on governance of public health in Africa?
3.
Can national governments provide policies for disease prevention without addressing the gendered nature of diseases in Africa? In what ways can health priorities be set from a gender perspective?
4.
At global level why is it that global statistics on diseases in Africa are not published by gender? What are the implications of this global absence of data for our understanding of gender and disease in Africa? What role does the global governance of public health influence Africa's own public health governance?
By linking the various levels of public health governance and gender it is clear that the main question that the gender institute is actually addressing is "In Africa, is it the diseases that are gendered or is it the governance of public health which is gendered?"
Ravayi Marindo of Curtin School of Public Health (Western Australia) will be the director of the 2016 Gender Institute on Gender, Diseases and Public Health Governance in Africa. The Director of the Institute will carry out the following tasks:
-
Participate in the selection of laureates
and

the identification of appropriate resource persons

;
-
Interact with resource persons and laureates towards adequate preparation for the Institute
;
-
Design the courses for the session, including the specification of sub-themes
;
-
Deliver a set of lectures and conduct a critical analysis of the papers presented by
resource persons and laureates

;
-
Submit a written scientific report on the session
;
-
The Director will edit the revised versions of the papers presented by the resource persons with a view to submitting them for publication in one of CODESRIA's collections. He will also assist CODESRIA in assessing the papers presented by laureates during the Institute for publication.
The CODESRIA 2016 Gender institute calls for applications for senior scholars to work as resource persons for the institute. Applicants must have a PhD and are expected to have at least five publications related to at least 5 publications in the area of gender, health or health policies

.
a)
If their expertise is not in the area of gender and disease/health, then they should have published on gender theory or feminist theory.
b)
Resources person must have published in the area of health in Africa in which gender is a component. Such resources persons will be expected to have knowledge of various theories of health.
c)
Resources persons who have published in the area of health policy in Africa will also be considered. It is the expectation of the Institute that such resource person would have published some work related to governance of public health in Africa.
Lectures to be delivered during the session are intended to offer laureates an opportunity to advance their reflections on the theme of the Institute. The resource persons will be expected to produce lecture materials which would stimulate laureates to engage in discussion and debate around their respective lectures and the general body of literature available on the theme.
Once selected, resource persons must:
- Interact with the Director of the Institute and the laureates to help the latter readjust their research questions and their methodological approaches;
- Submit a copy of their course materials for reproduction and distribution to participants no later than one week before they deliver their lectures;
- Deliver their lectures, participate in debates and comment on the research proposals and the papers of the laureates;
- Review and submit the revised version of their lecture notes or research papers for publication by CODESRIA not later than two months following their presentation at the Institute.
Applications for the position of resource person should include:
1. An application letter;
3. Two (2) published papers;
4. A proposal of not more than five (5) pages in length, outlining the issues to be covered in the three (3) proposed lectures, including one on methodological issues;
Applicants should be PhD candidates or scholars in their early career with a proven capacity to conduct research on the theme of the Institute. Intellectuals active in the policy process and/or social movements and civil society organizations are also encouraged to apply. The number of places offered by CODESRIA for this session is limited to ten (10). Non-African scholars who are able to raise funds for their participation may also apply for a limited number of places.
Applicants'
proposals must bring together the three components of the topic: gender, diseases and governance of public health In Africa. The proposed work can be based on empirical studies including field work using quantitative or qualitative methodologies; analytical work involving analysis of existing data or case studies. All work must have some theoretical grounding. Papers can be from any social science discipline including gender studies, sociology, anthropology, demography, economics; or health sciences like epidemiology or biostatistics. Scholars are encouraged to show through their work the way in which gender, diseases and public health governance are linked.
Applications for the position of laureate should include:
1. One duly completed application form;
2. An application letter;
3. A letter indicating institutional or organizational affiliation;
5. A research proposal not more than ten (10) pages including a descriptive analysis of the work the applicant intends to undertake, an outline of the theoretical interest of the topic chosen by the applicant, the relationship of the topic to the problematic and concerns of the theme of the 2016 Gender Institute ;
6. Two (2) reference letters from scholars or researchers known for their competence and expertise in the candidate's research area (geographic and disciplinary), including their names, addresses, telephone numbers and email addresses;
7. A copy of the passport.
The deadline for submission of applications is 15th April, 2016. The laureates will be notified of the results of the selection in early May 2016. They will thus be able to use the rest of the month of May to gather field information and improve their draft research report to be presented at the Institute. The laureates will be required to work on the document and prepare it for publication after the Institute.
Submission of Applications
For specific questions, please contact:
Avenue Cheikh Anta Diop x Canal IV
BP 3304, CP 18524, Dakar, Senegal
Tel.: (221) 33 825 98 21/22/23
Edward Lowassa akizungumza na wazee wa CHADEMA Jimbo la Ubungo jijini Dar es Salaam leo
Aliyekuwa Mgombea urais kwa tiketi ya CHADEMA, Edward Lowassa, akizungumza na wazee wa chama hicho, jimbo la Ubungo jijini Dar es Salaam leo walipomtembelea ofisini kwake amewataka wazee hao kutokata tamaa na kujipanga kimkakati kujiandaa na kuimarisha chama chao pamoja na ukawa kwa ujuml ili kujiandaana uchaguzi ujao wa 2020.
Lowassa pia ameendelea kuwataka Watanzania kuwa watulivu na kulinda amani ya nchi na kujiepusha na kila jamboambalo wanaona linamwelekeo wa uvunjifu wa amani.
Hayo aliyasema wakati alipokuwa akijadili mambo mbalimbali ya kuimarisha chama.
Aidha, aliwaomba wazee hao kutokata tamaa kwani kuna mambo mengi ya kufanya hadi kufikia malengo waliyojiwekea.
"Hali ya chama chetu na UKAWA iko vizuri, uchaguzi tulishinda, sisi tunajua, Jumuiya za Kimataifa zinajua na hata CCM wenyewe wanajua kama tulishinda, ila ubabe wao na dhuulma ndio wamefanya waliyofanya," alisema.
Lowassa alifafanua zaidi kuwa kama chama kinachojiandaa kushika dola hawakuwa tayari kuingia Ikulu kwa damu ya watazania na ndiyo maana hata vijana walipomtaka atoe kauli ya kuingia barabarani anasema, "niliwazuia."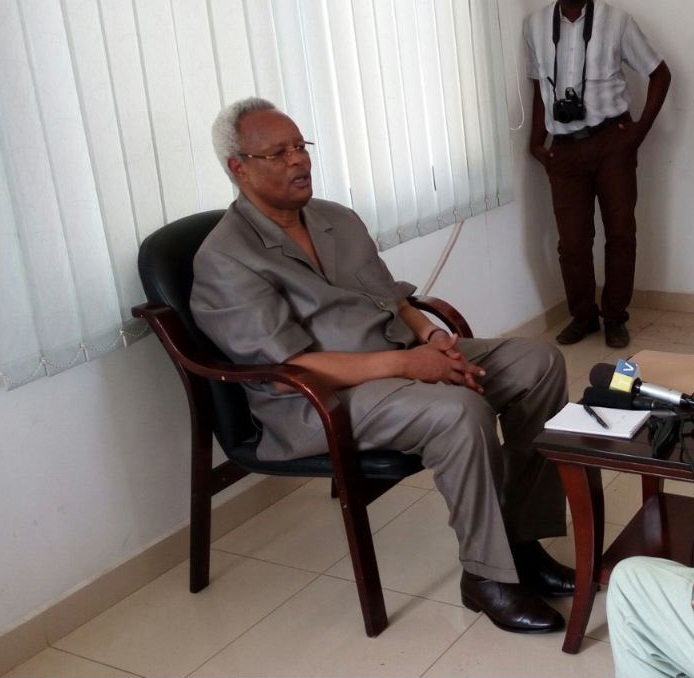 Kuhusu suala la mgogoro wa kisiasa na kutangazwa tareye ya marejeo ya uchaguzi Zanzibar, Lowassa amewataka CCM kuacha kufanya siasa za kiimla na kuwa wasijidanganye kwamba Zanzibar ikichafuka, Bara itasalimika.
Lowassa amesema ni vema serikali ikahakikisha inapata suluhu ya mgogoro wa kisiasa visiwani Zanzibar kabla ya kufanyika kwa uchaguzi wa marudio Machi 20 mwaka huu.

Lowassa amesema anaunga mkono uongozi wa CUF kutokushiriki uchaguzi huo huku akisisitiza endapo serikali ikishindwa kumaliza mgogoro huo kabla ya Machi 20 mwaka huu, huenda hali ya kisiasa Zanzibar ikabadilika.

Aidha, amemshukuru Waziri Mkuu kwa kuruhusu mikutano ya kisiasa, suala ambalo linawapa fursa ya kuajipanga ili kuwashukuru watanzania waliojitokeza kupiga kura Oktoba 25, 2015.

Risala ya wazee hao iliyosomwa na mzee Enock Ngombare imempongeza Lowassa kwa na uvumilivu wake baada ya uchaguzi, ambapo pia wamemhakikishia kuwa wako pamoja naye katika safari ya kuelekea mwaka 2020.

Katika mkutano huo pia uliohudhuliwa na kada wa siku nyingi Kingunge Ngombare Mwiru, Lowassa amewataka Wazanzibari na Watanzania kwa ujumla kuwa watulivu na kuhakikisha wanadumisha amani ya nchi hasa katika kipindi hiki ambacho viongozi wanaendelea na juhudi za kutafuta suluhu ya kisiasa visiwani Zanzibar.
Mmoja wa wazee hao akitoa mawazo yake juu ya namna ya kufanya kabla hawajaingia katika uchaguzi mwingine ili kukabiliana na mbinu za chama ha mapinduzi ili kuwashinda kwenye majimbo mengi zaidi ya sasa.
Mze Enock Ngombale, Ndugu wa Mze Kingunge Ngombale Mwiru ambaye ni Mwenyekiti wa Wazee wa Chadema jimbo la Ubungo, akiwasilisha mipango na mikakati ya Chama hicho kuelekea Uchaguzi Mkuu wa 2020.
Picha via blogu ya Said Powa na ziada ya taarifa kutoka tovuti ya ITV
Code:

026

Posted On:
Closing On:
Thursday, 4th February 2016
Thursday, 18th February 2016

Category:

Research

Department:

Clinical

Shift:

Normal

Location:

Dar es salaam
At Muhimbii Hospital
Upanga

Job Type:

Full Time

Education:

Graduate Degree

Duration:

Travel:

Reports to the Clinical Coordinatorof the programme.

Duties and Responsibilities:
• Health Care: Clinical activities of the SCD programme are managed by the clinical coordinator, SCD project. You will be expected to attend the outpatient andinpatients, review patients with or suspected to have sickle cell disease and perform all relevant clinical and research procedures.
• Research: You will be expected to attend the research meetings and participate in reviewing and writing research protocols and manuscripts. You will also be required to develop research proposals.
• Teaching and Training:. You will be expected to contribute to continuing medical education of staff in SCD programme.
• Advocacy: You will be expected to participate in public awareness activities on sickle cell disease

Qualifications and Skills:

Degree in doctor of medicine

Strong computer Knowledge in statistical packages and Microsoft office

Minimum of 2 year clinical experience is required, research experience desirable.

Good work ethic and desire to make a difference

Goal driven with strong attitude and commitment towards clinical research work with much interest in SCD.

Prioritizing of tasks and good time management

Excellent report writing skills

Ability to multi-task and handle pressure well

Flexibility and ability to work within a multi- cultural environment

Application Procedures:
Applicants should send their CV's, scanned copies of transcripts/certificates and a cover letter outlining their suitability for the position to

[email protected]

by Thursday, 16 February 2016. Interviews and assessments are expected to be held in the following week. The successful Applicant should be able to start work on 01 March 2016.

ONLY SHORT-LISTED CANDIDATES WILL BE CONTACTED. An attractive remuneration package will be offered to the successful candidate.
Nehemiah Kyando Mchechu
Dar es Salaam, 3rd February 2016 - The National Bank of Commerce (NBC Limited) Board of Directors is delighted to announce the appointment of Mr. Nehemiah Kyando Mchechu as its Board Chairman.
Mr. Mchechu suceeds Prof. Mussa Assad who was appointed as the Controller and Auditor General. Mr. Mchechu brings a wealth of experience possessing extensive banking, commercial, executive management and board level experience having held previous leadership capacities in Standard Chartered Bank Tanzania, Commercial Bank of Africa and National Housing Corporation where he now serves as the Director General.
His contributed board and executive experience will oversee and steer the NBC brand to greater heights in its 2016 - 2020 strategic ambition. He currently chairs several recognizable boards across Tanzania; Serengeti Breweries Limited (SBL), NHC/PPF Investments Company and Amboni Sisal Properties Limited (ASPL). He also serves as a Director member of the following Boards; DAWASCO, Watumishi Housing Company Limited (WHC), Tumaini University - Dar College (TURDACO), Tanzania Investment Centre (TIC), Tanzania Employers Association (TEA), Tanzania Mortgage Refinance Company Limited (TMRC) and East African Breweries Limited (EABL).
The NBC Board welcomes Mr. Mchechu and thanks the interim Chair, Dr. Kassim Hussein for his excellent leadership during the year. Dr. Kassim Hussein remains to Chair the NBC Lending Committee and is a member of NBC's Risk and Compliance Committee.
Msajili Msaidizi wa Vyama vya Siasa, Bwana Sisty Nyahoza (kulia) akitoa ufafanuzi kuhusu taratibu za usajili wa kudumu wa chama cha siasa leo jijini Dar es Salaam. Kushoto ni Msajili wa Vyama vya siasa nchini, Jaji Francis Mutungi.
Na. Jonas Kamaleki.
VYAMA vya Siasa nchini vimeaswa kuepukana na migogoro na kutumia vikao vyao katika kuendeleza shughuli zao za kisiasa.
Hayo yamesemwa leo na Msajili wa Vyama vya Siasa nchini, Mhe. Jaji Francis Mutungi wakati akikabidhi Cheti cha Usajili wa muda kwa Chama kipya cha Maadili na Uwajibikaji (CM-TANZANIA).
Aidha, Jaji Mutungi amevitaka Vyama vya siasa nchini kufanya siasa na sio uanaharakati kwaki kwa kufanya hivyo malengo yao yatatimia na kuifanya Tanzania kuwa na amani.
'Msipende kukimbilia kwenye vyombo vya habari mnapokuwa na migogoro bali malizeni tofauti zenu ndani ya vikao vyenu kulingana na Katiba ya Vyama vyenu', alisema Jaji Mutungi.
Aliongeza kuwa, Tanzania inapaswa kuwa na vyama vya siasa vinavyojitambua na vinavyojua wajibu wao katika kuleta maendeleo ya Taifa kwani siasa sio chuki wala uasama.
Kwa upande wake, Mwenyekiti wa Chama cha Maadili na Uwajibikaji (CM-TANZANIA) Bwana Laban Nkembo amesema kuwa, chama hicho kimeanzishwa kwa lengo la kuiweka Tanzania kimaadili na uwajibikaji kwa kuwa kinabeba mambo makubwa mawili yakiwemo Amani na Upendo.
Ameongeza kuwa, chama chao sio cha Upinzani na kinaheshimu chama kilichopo madarakani hivyo, kinaahidi kushirikiana na Chama Tawala kuenzi mazuri yanayofanywa na chama hicho. ''Chama chetu sio cha upinzani, tunataka nchi nyingine duniani ziwe zinakuja kujifunza Tanzania kuhusu amani na maendeleo tulionayo'', alisema Nkembo.
Aidha, amebainisha kuwa, chama chao cha CM-TANZANIA kitatoa ajira za kudumu kwa Wanachama wake na hata kwa wale wasiokuwa wanachama ambapo kimeshaandaa Idara ya usimamizi mzuri wa huduma kwa jamii kama vile Wazee, Wajane, Walemavu pamoja na Yatima.
CM-TANZANIA ni chama cha 23 kupokea usajili baada ya vyama vingine vya siasa 22 vyenye usajili wa kudumu.
WATUMISHI nane wa hospitali ya wilaya ya Mufindi mkoani Iringa akiwemo Mganga Mkuu, Dk Nelson Mtajwa wamesimamishwa kazi kwa muda ili kupisha uchunguzi wa tuhuma mbalimbali zinazowakabili ikiwemo ya kusababisha kifo cha mama mjamzito na mtoto wake aliyefariki kabla hajifungua hospitalini hapo, mjini Mafinga.

Mkurugenzi wa Halmashauri ya Mji wa Mafinga, Shaib Nnunduma amekiri kusimamishwa kazi kwa watumishi hao na kwamba hatma yao itategemea matokeo ya uchunguzi huo.

Mbali na Dk Mtajwa, wengine waliosimamishwa kazi kwa mujibu wa mkurugenzi huyo ni pamoja na Prosper Kalinga, Greysoni Sanga, Ajue Kilingatu, Jackilini Mtavangu, Miraji Ngule, Sixter Nyenza, pamoja na dobi wa hospitali hiyo Nelson Nyenza.

Kusimamishwa kazi kwa watumishi hao kumekuja siku chache baada ya Mkuu wa Mkoa wa Iringa, Amina Masenza kuunda timu ya uchunguzi iliyoyopewa jukumu la kufuatilia malalamiko ya wagonjwa dhidi ya baadhi ya watumishi wa hospitali hiyo wanaotuhumiwa kufanya kazi kwa mazoea huku wakitumia lugha zisizofaa kwa wagonjwa.

Nnunduma alisema tayari watumishi hao wameandikiwa barua za kujielezea kuhusiana na tuhuma zinazowakabili ikiwemo ya kusababisha kifo cha mjamzito huyo.

Taarifa zinazoendelea kufanyiwa uchunguzi kutoka katika chanzo ambacho hakikutaka kutaja jina lake gazetini zimedai kwamba mmoja wa madobi wa hospitali hiyo (jina linahifadhiwa) amekuwa akitumiwa kufanya kazi za kitabibu kwa kile kilichoelezwa uwepo wake hospitalini hapo kwa muda mrefu umemfanya atumiwe kwa kufanya kazi zinazotakiwa kufanywa na wataalamu.

Chanzo hicho kilisema dobi huyo ambaye kazi yake kuu ni ufuaji wa mashuka na nguo zingine za hospitalini hapo alimfanyia upasuaji baada ya kufariki, Sauda Myinga aliyekwenda hospitalini hapo kujifungua.

Mama huyo (Sauda) alipokelewa hospitalini hapo hivikaribuni akitokea katika kituo cha kutolea huduma cha Nyololo, wilayani humo.

Taarifa hiyo inasema uzembe wa watoa huduma wenye ujuzi uliopelekea Sauda achelewe kufanyiwa upasuaji ulisababisha apoteze maisha yeye pamoja na mtoto wake.

Baada ya kufariki mjamzito huyo, baadhi ya watoa huduma wa hospitali hiyo wanatuhumiwa kumpa kazi ya kumfanyia upasuaji mama huyo ili kukitoa kiumbe ambacho pia kilifariki.

Akizungumza na wanahabari mmoja wa ndugu wa marehemu ambaye naye akutaka kutaja jina kwa kuwa si msemaji wa familia alisema ndugu yao

alihamishiwa katika hospitali ya wilaya ya Mufindi mjini Mafinga baada ya kushindwa kujifungua kwa njiaya kawaida katika kituo cha huduma cha Nyololo.

"Tulilazimika kumsafirisha hadi hapa Mafinga ili aweze kufanyiwa upasuaji katika hospitali ya wilaya, lakini matokeo yake ndiyo hayo," alisema ndugu huyo.

Alisema baada ya kufika hospitalini hapo ndugu yao huyo alikaa siku tano bila ya kupata huduma ya upasuaji kama ilivyotarajiwa huku wauguzi wakimpa matumaini kwamba angeweza kujifungua kwa njia ya kawaida kwa kuwa alionesha dalili hizo ambazo hata hivyo hazikutajwa.

"Marehemu alikuwa akilalamika kusikia maumivu makali na kuomba afanyiwe upasuaji bila mafanikio na baada ya kuchunguzwa na madaktari iligundulika kwamba mtoto aliyeko tumboni amefariki," alisema.

Pamoja na taarifa ya mtoto wake kufariki akiwa tumboni, Sauda hakufanyiwa upasuaji kwa madai kwamba kiumbe hicho kingetoka chenyewe baada ya muda.

Huku machozi yakimtoka alisema ndugu yao aliachwaa na kiumbe hicho kwa siku nzima huku uchafu na harufu kali zikimtoka sehemu zake za siri hali iliyosababisha siku iliyofuta (Januari 11) naye aage dunia.

Baada ya ndugu yetu kuaga dunia, alisema walipewa mfua mashuka ili afanye upasuaji huo wa kumtengenisha mama na mtoto kwa kiasi cha Sh 40,000.
Jaji Mkuu wa Tanzania Mhe. Mohamed Chande Othman akisoma hotuba yake kabla ya kumkaribisha Rais wa Jamhuri ya Muungano wa Tanzania Dkt. John Pombe Joseph Magufuli wakati wa uzinduzi wa Mwaka Mpya wa Mahakama katika Siku ya Sheria Duniani katika uwanja wa Mahakama mtaa wa Chimala eneo la Ocean Road jijini Dar es salaam leo Alhamisi, Februari 4, 2016
Rais wa Jamhuri ya Muungano wa Tanzania Dkt. John Pombe Joseph Magufuli akihutubia wakati wa uzinduzi wa Mwaka Mpya wa Mahakama katika Siku ya Sheria Duniani katika uwanja wa Mahakama mtaa wa Chimala eneo la Ocean Road jijini Dar es salaam leo Alhamisi, Februari 4, 2016
Rais Dtk John Pombe Magufuli akihutubia katika viwanja vya Mahakama wakati wa kilele cha Maadhimisho ya 21 ya siku ya Sheria na uzinduzi wa mwaka mpya wa kimahakama, Dar es Salaam, ametumia nafasi hiyo kueleza shida iliyoko kwenye serikali yake kwa matumizi mabovu ya fedha.
Alitoa mfano wa wa matumizi mabaya ya fedha yaliyofanywa na Mamlaka ya vitambulisho vya taifa (NIDA) katika mradi wa kutengeneza vitambulisho vya taifa.
Alizungumzia kuchukizwa na utendaji wa polisi, mahakama na DPP kwa kurefusha kesi na kujenga imani ya mazingira ya kutaka rushwa.
Alikubali kuipa mahakama kiasi cha fedha ilichoomba ili iharakishe kuamua kesi viporo.
Aliagiza apewe majina ya mahakimu waliotimiza lengo la kiwango cha kesi cha kuamua kwa mwaka, ili awaandikie barua ya pongezi na kama motisha na kutambua jitihada zao.
Taasisi ya Kuzuia na Kupambana na Rushwa Mkoa wa Kinondoni, tarehe 02/02/2016 imewafikisha washitakiwa wafuatao mahakamani:-Bw. Bryceson Kajigiri Mwangoma mwenye umri wa miaka 54, Bw. Abel Sebabil Slaa mwenye umri wa miaka 44 na Bw. Bernard Thomas Mkude mwenye umri wa miaka 42 kwa kuiibia Halmashauri ya Manispaa ya Kinondoni Tsh. 33,681,780.
Washitakiwa hawa Bw. Mwangoma na Bw. Slaa wakiwa Maafisa watendaji wa Kata ya Kimara kwa vipindi tofauti, na Bw.Mkude akiwa Afisa Mtendaji wa Mtaa wa Kimara Baruti walitenda makosa kinyume na kifungu cha 31, 22, 28 (1) 3 vya sheria ya Kuzuia na Kupambana na Rushwa namba 11 ya mwaka 2007 pamoja na kifungu cha 258, 270 vya sheria ya Kanuni za Adhabu. Washitakiwa wanadaiwa kutumia madaraka yao vibaya na kujipatia manufaa kwa kufanya wizi wa fedha hizo zilizokua zimewekwa na Wananchi katika akaunti ya Urasimishaji Ardhi kata ya Kimara iliyopo benki ya Wananchi wa Dar – es- Salaam (DCB) tawi la Magomeni kwa ajili ya kupimiwa maeneo yao.
Mshitakiwa wa kwanza Bw. Mwangoma akiwa mtendaji wa kata kwa kipindi cha tarehe 01/04/2011 hadi tarehe 30/11/2011 kwa kushirikiana na Mshitakiwa wa tatu Bw.Mkude ambaye ni mshitakiwa wa pili walitumia madaraka yao kwa kushirikiana kuiba kiasi cha Tsh. 24,764,280. Bw. Slaa akiwa mtendaji kata kwa kipindi cha tarehe 01/06/2013 hadi tarehe 31/01/2014 kwa kushirikiana na Bw.Mkude waliiba kiasi cha Tsh. 8,917,500.
Washitakiwa walifikishwa Mahakama ya Wilaya ya Kinondoni na kufunguliwa kesi namba 51/2016 inayosimamiwa na Mhe. Hakimu Mushi. Watuhumiwa wako nje kwa dhamana na kesi imepangwa kusikilizwa tena tarehe 16/02/2016.
IMETOLEWA NA MKUU WA TAKUKURU (M) KINONDONI
BENN LINCOLIN
04/02/2016
Kijiko cha kampuni ya udalali ya Mem Auctioneers and General Brokers Ltd kikibomoa nyumba za makazi ya watu na biashara zilizojengwa katika eneo la Kampuni ya Dar es Salaam Cold Makers Ltd lililopo Shekilango Sinza jijini Dar es Salaam leo asubuhi.
Na Dotto Mwaibale
KAMPUNI ya Udalali ya Mem Auctioneers and General Brokers Ltd imebomoa nyumba za makazi ya watu na biashara zilizojengwa katika eneo la Kampuni ya Dar es Salaam Cold Makers Ltd lililopo Shekilango Zinza jijini Dar es Salaam.
Uvunjaji wa nyumba hizo uliofanyika Dar es Salaam leo ambao ulisimamiwa na jeshi la polisi na mgambo uliwaanja mdomo wazi na wasijue cha kufanya wamiliki wa nyumba hizo na wafanyabiashara wa nyama choma ya nguruwe ambao wengi wao walishindwa kuondoa mali zao na kujikuta wakiingia hasara kubwa.
Akizungumza na wanahabari eneo la tukio Meneja wa Biashara wa kampuni hiyo ya udalali, Elieza Mbwambo alisema wamebomoa nyumba hilo kwa agizo la mahakama baada ya mteja wao Dar es Salaam Cold Makers kushinda kesi ya msingi iliyofunguliwa na mtu aliyetajwa kwa jina la Ondolo Chacha aliyekuwa akidai eneo hilo ni lake.
Mbwambo alisema kuwa eneo hilo lililokuwa linadaiwa kuwa ni mali ya Jumuiya ya Wazazi wa Chama Cha Mapinduzi (CCM) na kampuni hiyo lilikuwa na mgogoro tangu mwaka 1993 kati ya wamiliki halali na wavamizi ambayo ilikuwa ikisikilizwa kwa nyakati tofauti ambapo mmiliki wake halali alikuwa akishinda lakini watu wanaodaiwa wavamizi wakawa wanaweka pingamizi hadi aliposhinda tena hivi karibuni.
"Baada ya mmiliki halali kushinda kesi hiyo mahakama ilitupa kibali cha kuwaondoa wavamizi ambao tumekuja kwaondoa baada ya kuwapa notisi lakini mfungua kesi hakuweza kuwapa notisi hiyo jambo lililoleta changamoto ya kwa watu waliokuwa wakitumia eneo hilo kushindwa kuokoa vitu vyao" alisema Mbwambo.
Mbwambo alisema mteja wao kwa zaidi ya miaka 20 alishindwa kutumia eneo hilo kwa shughuli zake za uzalishaji mali kutokana na mgogoro.
Mmoja wa wafanyabiashara katika eneo hilo aliyejitambulisha kwa jina moja la James alisema yeye alipangishwa katika eneo hilo kwa kulipa sh.milioni 20 hivyo ameingia hasara kubwa ya ujenzi wa mabanda na vitu vilivyokuwemo ambapo amepoteza zaidi ya sh.milioni 70.
Mfanyabiashara huyo alisema eneo hilo walikuwa wakipangishwa na watu waliouziwa na mtu aliyedai ni lake na miezi michache iliyopita kuna mzee mmoja aliuziwa sehemu ya barabara na kutoa sh.milioni 400 na kujikuta akiingia katika hasara kubwa.
"Tuta watafuta waliotuuzia maeneo katika eneo hilo na kutupangisha ili waweze kuturudishia fedha zetu" alisema James.
Mwananchi akiangalia mabaki ya nyumba zilizobomolewa katika eneo hilo.
Kijiko kikibomowa moja ya baa zilizokuwepo eneo hilo jirani na Baa ya Rego iliyopo Sinza jijini Dar.
Wananchi, wamiliki wa nyumba na mabaa katika eneo wakiwa wamepigwa butwaa
Mabati yakiondolewa eneo hilo.
Hapa ni kupiga picha eneo la tukio na huzuni tupu.
Wananchi wakiwa eneo la tukio.
Kijiko kikibomoa nyumba ya ghorofa katika eneo hilo.
Askari Polisi na mgambo wakiwa eneo la tukio kuimarisha ulinzi.
Kontena likiondolewa katika eneo hilo inadaiwa mmiliki wa kontenta hilo aliuziwa eneo hilo miezi ya hivi karibuni kwa sh.milioni 400. hakika ni hasara kubwa.
Imeandaliwa na mtandao wa www.habarizajamii.com - simu namba 0712-727062
Africa's first pan-African reinsurance Journalism Awards
Journalists from across Africa have until the

29th February 2016

to submit their entries for the inaugural pan-African reinsurance Journalism Awards
NAIROBI, Kenya,

February 4, 2016

/ -- Journalists from across Africa have until the

29th February 2016

to submit their entries for the inaugural pan-African reinsurance Journalism Awards.

Dr Femi Oyetunji, Group MD/CEO of Continental Reinsurance said: "The insurance and reinsurance sector has a valuable role to play in Africa's economic growth and development and we want to recognise the respected contribution of the media to the sector's growth."

Continental Reinsurance Plc launched the pan-African Journalism Awards to develop re/insurance reporting in Africa and to encourage journalists to develop their knowledge on the sector and importantly to recognise the outstanding work of journalists from across Africa.

"The awards are an extension of our continued commitment to the advancement of excellence in the industry," says Oyetunji.

The Award categories are:

1.       
Best re/insurance feature article
2.        Best re/insurance news reporting
3.        Best re/insurance industry analysis and commentary
4.       
Pan-African reinsurance journalist of the year award

An international judging panel comprising industry experts and academics in journalism will judge the Continental Reinsurance Journalism Awards entries.

The Awards ceremony will be held in the Seychelles in April 2016.

The judging panel will evaluate all submitted material according to the quality of information and how it contributes to raising awareness of the insurance and reinsurance sector in Africa.

Entry criteria:

Each entrant must submit their published article together with their name, media organisation, the date the article was published, their brief profile and photo, together with a 250-word motivation for writing their editorial article.

All submissions must be submitted by

29 February 2016

to, email: [email protected]brandcommsgroup.com.
For further information:
SOURCE
Pan-African reinsurance Journalism Awards